News
A New Website - At Last!
Ideal Tent & Event Rentals Unveils it's New Online Home - Designed to Maximize the Customer Experience With Clarity, Convenience, and Customization in Mind
Tea, SD: Ideal Tent & Event Rentals is proud to announce the unveiling of their brand new website, designed and built with the help of the team at WebConcentrate (now part of Hutman Inc.). The previous version of Ideal's online presence was designed and launched in 2014, so while aspects of that site were still serviceable, MUCH had changed in terms of style, inventory, and Ideal's overall capabilities. A full overhaul was needed.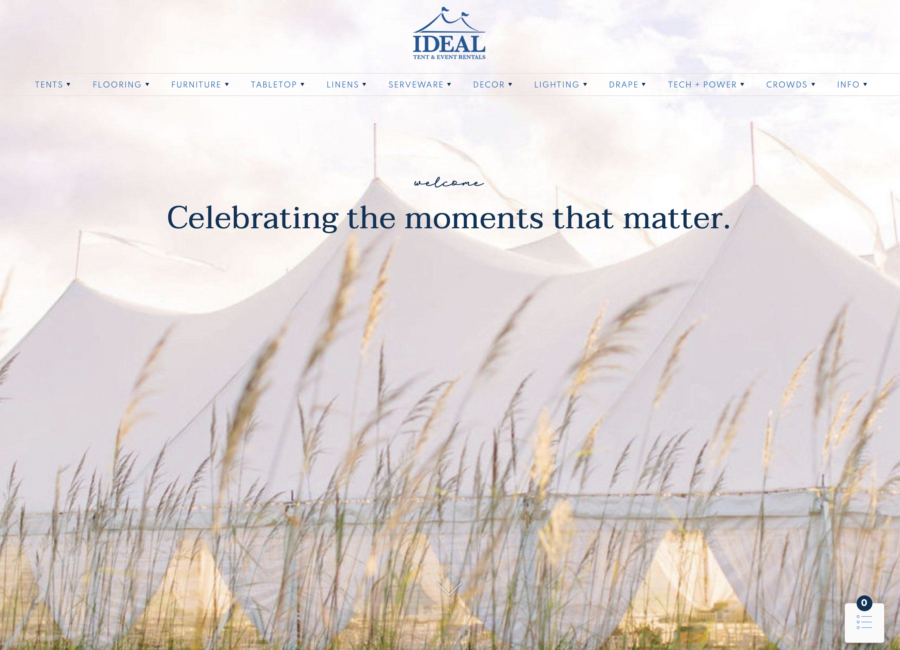 One of the primary features of the new site is the Wishlist Generator - a tool for creating and building rental "Wishlists". The experience of using the Wishlist Generator is similar to most online shopping platforms that customers are familiar with - there's photos, item descriptions, weights and dimensions, and, in the case of inventory items that require some user guidance, Instructional Manuals within each item listing. Customers can search for and add any desired items to their Wishlist, adjust quantities, and select the specific date and location for their event. Then, once a Wishlist is submitted to the Ideal team, they'll promptly respond back with a customized quote for the event. The software in the Wishlist Generator is also seamlessly integrated with Ideal's warehouse management software, so troubleshooting issues like an overbooking is flagged and addressed nearly instantaneously.
Other features of the new site include:
The option to shop by product type OR by type of event the customer is planning. Items in Ideal's inventory that are available for Graduations, Holiday Events, Corporate, or Weddings are organized in their own easy-to-navigate location.

Designated pages for each style of Ideal's tent offerings. Pages include images of past events featuring the specific type of tent, CAD renderings of layout options, and detailed descriptions of what makes each type of tent unique.

An online version of their Tent Questionnaire. If a customer is interested in renting a tent, THIS is the place to get the ball rolling!

Loads of inspiration in the form of photo galleries. These provide the customer with a starting place to view some of the capabilities Ideal offers, while also allowing the customer to dream up their own design ideas! After the initial launch, Ideal plans to grow this section to include a blog, video clips and segments featuring their crew during setups and behind-the-scenes moments, and Spotlight articles that feature some of their favorite venues and vendors throughout the area. Be sure to check back for updates and additions to this section, as it continues to grow!
"We know events are fun for the people attending them, but they can often be very stressful for the people planning them," said Ideal owner and President, Blake Dede. "Our goal with the new website was to create a platform our customer can use to plan their event from start to finish; doing as much as possible from the comfort and convenience of their home. Then, from that point, our knowledgeable team can take the reins and help guide them through the process - troubleshooting and advising on everything from design to the labor aspects of setup, delivery, and strike. The website will hopefully be the first step in a simple and seamless process."
Photography credits for images on the site go to the following: Nicole Marie Photography, Jessica Blex Photography, Liz Banfield Photography, Michael Woolheater Photography, Ann Louisa Photography, Summer Street Photography, Brittany Elizabeth Images, The Waldron Photography Co., The Mullers, C-Starr Photography, Jeff Sampson Photography, Chad Phillips Photography, Shalista Portrait Art, Emily Mitton Photography, The Photography Shoppe, Dan Thorson Photography, Luke & Savannah Photography, Michael Liedtke Photography, Geoff Johnson, Erica Lynn Photography, Jessica Simons Photography, Tiffany Kokal Photography, the Hansen Family archives, and Ideal staff.