News
Welcome to the New Home of Ideal Tent & Event Rentals!
The Spacious Warehouse and Storefront Re-open, as Ideal Puts Down Roots in Tea, South Dakota
Tea, SD: Nestled just off Exit 73, you may have noticed the bright blue uplights and logo signage beaming from a shaker-clad exterior as you whizzed south on I-29, and found yourself wondering what was housed inside the 15,000 square foot, 30+ foot tall facility. Or perhaps you even caught the Sioux Falls Business features that were written about the history of the business and the building itself, and were "in" on the buzz of the new/old business coming to Tea. After nearly a year and a half of planning, design work, and construction (which began in early 2019), Ideal Tent & Event Rentals opened the doors to its brand new combined-use warehouse/retail storefront in April of 2020. And while the timing of the opening was not "ideal" (being in the midst of a global pandemic, after all!), the Ideal team was so happy to finally be working in their spacious new locale; designed with productivity, efficiency, and aesthetics in mind.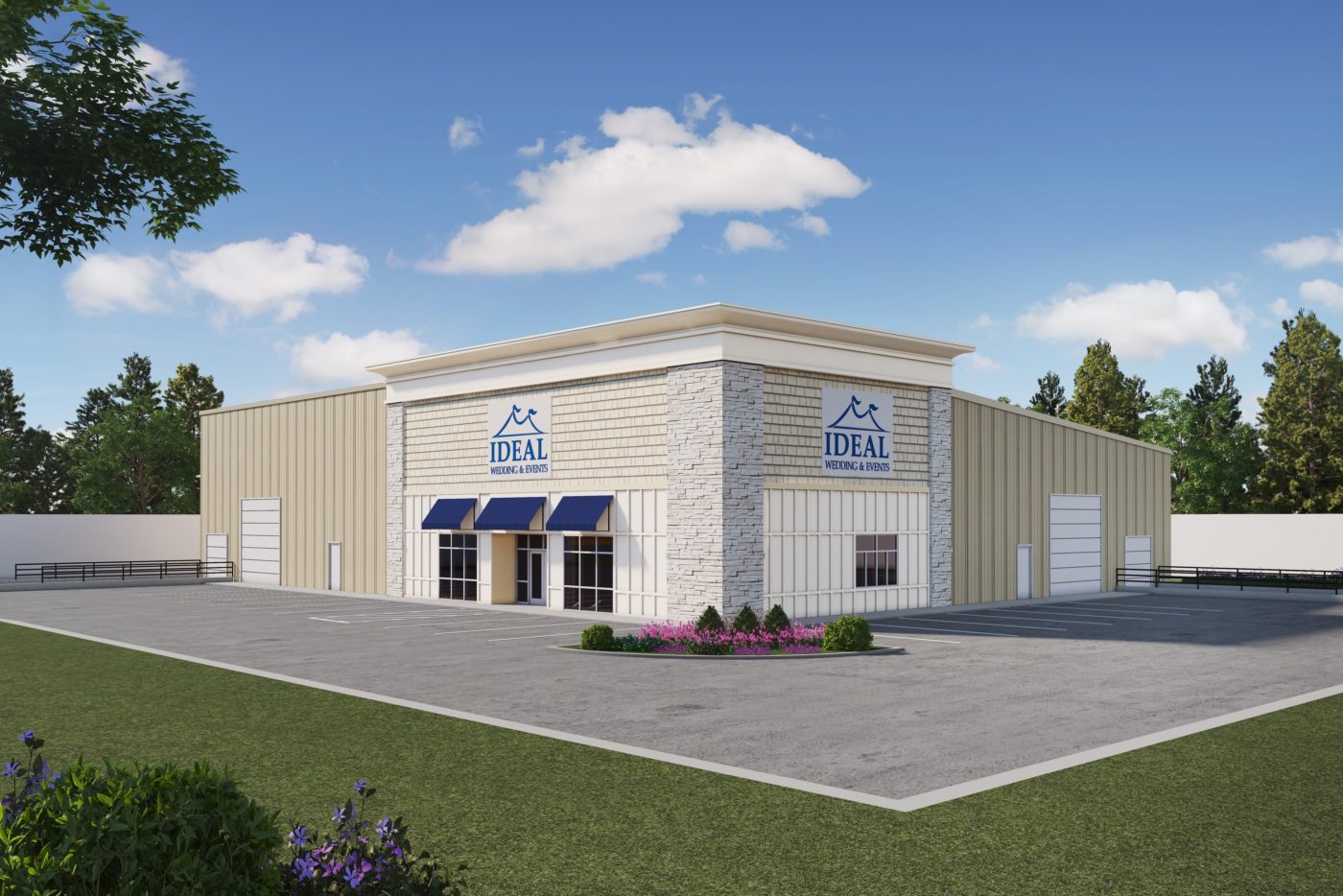 "We had a few somewhat particular design and functionality needs for our building," recalls owner and President, Blake Dede. "We knew we wanted a metal building to provide the interior structure and support we needed, but without the conventional look that comes with a metal building. Our goal was to create a coastal/Cape Cod aesthetic, and marry that with custom exterior lighting that would make us stand out to the passing Interstate and in-town traffic."
On the interior, the building also had to serve dual-purpose as both a warehouse for their extensive rental inventory AND a showroom/storefront for their rental items and robust baking and party supply offerings. On the warehouse side, the goal with the 100 foot clear span footprint was to create a seamless system for trucks to unload on one end of the building, cleaning, maintenance, and repackaging to occur in the interior, and simultaneously, crews could be loading trucks for upcoming events on the opposite end. Dede credits the guidance of their builder, RAECO Builders, LLC, with bringing all the pieces together. "Together with RAECO, we were able to create the free-flowing and unobstructed space needed for maximum efficiency."
RAECO had similarly rave reviews for Blake and the Ideal team, when they highlighted the project on their own website. "The whole project is unique. I was very excited to be a part of it," said RAECO owner, Tom Jurgens. "For 10 years I've been trying to get a project like this in Sioux Falls, and this one is so unique. It's going to be bright and inviting. The one thing about Blake is he's very sincere and honest, and his personality is contagious. That's going to be what the whole environment will be like. It will be a reflection of who he is and the business he runs."
For more in-depth information about Ideal as a business, the interior and exterior features of the new building, and what's in store for Ideal in the not-so-distant future, be sure to check out the articles from Sioux Falls Business and RAECO Builders, LLC.
Growing wedding, event rental business plans new location in Tea
Unique new Ideal Wedding location to include high-tech, hands-on features
Custom Steel Building Highlight - Ideal Tent & Event Rentals